I created an onboarding guide for newly hired chefs and I later designed a prototype app for my school project at UC Berkeley Extension.
​
I was an Assistant Cook at a senior-citizen NPO program that cooks healthy Japanese meals for seniors age 65+ in San Francisco.
​
PURPOSE: Converting a lean proof of concept into a prototype mobile app
TIMELINE: 9 Weeks
MY ROLE: UX Designer, UI/Visual Designer, and Chef
TOOLS: Sketch, Trello, Invision
METHODOLOGY: User Research, User Testing
WORKING ENVIRONMENT
When I first started the job as an Assistant Chef, there was no instruction manual on preparing the meals for service or a kitchen schedule. Only verbal instructions.
MY NOTES
The kitchen staff mainly spoke Japanese, along with a few volunteers. I had to learn by observing and taking notes every day and meeting with staff after work to discuss their pain points.
FOR CHEFS:
The high turnover rate for kitchen staff

Chef burn-out, working overtime

No formal training or onboarding process

No recipe guide

Mostly non-English speaking working environment

Mostly hiring staff with no experience
FOR MANAGEMENT:
Overworked, overseeing the entire operation

Unable to increase low wages for kitchen staff. This is controlled by a different department
Unfortunately, my co-worker (who was hired at the same time as me) was fired because he couldn't keep up with the pace in the kitchen or memorize the recipes and prep directions.
​
After a month, we hired someone new. Despite being an excellent cook with 10+ years of experience in the restaurant industry, he struggled because there were only verbal instructions and still no written schedule to follow.
HOW TO SOLVE THE PROBLEM: WITH TRELLO
USER NEEDS:
​
Easy-to-understand onboarding for new staff

Create a cheap but efficient recipe and schedule guide for the chef to learn quickly

Create a tool that all staff members and managers can use to keep track of delegating tasks and inventory management

Fewer mistakes, happier people
Sharing my Trello board with Co-workers:
The pace of the kitchen went a lot faster. My co-worker took the time to review my notes before starting our shift. I got a lot of "thank yous!"

The head chef decided to print out her recipe guide to share with the team.

Management took the Trello board seriously and decided to start creating an official manual.
PROJECT CASE STUDY:
CREATING A CHEF APP
WHY WOULD AN APP HELP?
Weaknesses of Trello
Doesn't show the entire month's menu

Trello boards for the weekly schedule have to be manually updated by the drag & drop system

There's no easy-to-view schedule/timeline of all the tasks you need to do for the day
Other benefits include:
Easy view of the chef's schedule & their duties

Language (Japanese) translations

Notification reminders of when time-sensitive tasks need to be done
Click on the image to magnify
USER FLOW (IN THE KITCHEN)
"I would never be on my phone to use [notifications] as a reminder. It's all about remembering it yourself"
— User
​
Feedback:
Take what makes Trello works and incorporate it into the app.

Align the staff together in completing the same goal
PROTOTYPING & USABILITY TESTING
Click on the image to magnify
USER INSIGHT:
(Recipe Page) From most important to least important:
Photo of dish

Directions

Ingredients

Recipe

Delivery

How to plate
Click on the image to magnify
"The printing [icon] seems like something you would want to disclose...it may be confidential."
— User
​
Both chefs and managers keep track of inventory. There is already a separate software system (such as Quickbooks, etc.) for tracking inventory and supplier information.

All users indicate that the Kitchen Schedule is the most important.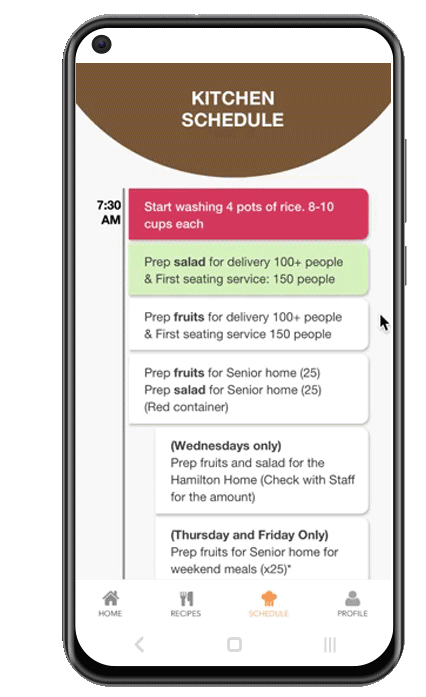 The kitchen information is still relevant, and it's a vital onboarding process. Users access the kitchen information quickly before/after their shift without risking contamination issues.
The app creates valuable alignment with all staff without the overburden of features, and it saves management training time and money.